Welcome to the ELGRAFF Camp – the Czech International Hockey Camp!
We are pleased to offer a wonderful opportunity to discover the Czech Republic through playing ice hockey with the real Czech hockey school experts.
We have been organizing international hockey camps for players, goalies and teams from different parts of the world since 2002.
Experienced Czech coaches will be happy to share their knowledge with you and assist you in polishing your playing techniques and skills.
We work with children of 5-18 years of age from many countries across the world. We offer our training programs in Czech, English, Russian and German.
Our coaches: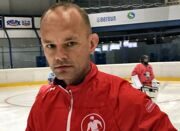 Mgr. Viktor LUKÁŠ
license: A
experience: 20 years
---
Mgr. Petr NOVÁK
license: A
experience: 25 years
---
Mgr. Petr JINDRA
license: B
experience: 12 years
---
Martin DUFEK
license: B
experience: 18 years
---
Martin DUFEK Jr
license: B
experience: 8 years
---
Daniel ČERNÝ
license: B
experience: 7 years
---
Mgr. Martin ULDRICH
license: B
experience: 8 years
---
Goalie hockey camp Elgraff
Adam PETŘIK
license: B
experience: 7 years
---
Alex BOROVSKÝ
license: A
experience: 12 years